An Attempt at Local Sourcing
As a Pacific Northwest/NorCal farmland native, the idea of sourcing local ingredients is woven into my subconscious. Perhaps the fondness began at four while picking up chicks from the post office with my great grandma to raise on her farm.
I assumed eggs were brown and I thought all chickens ran rambunctious lives, clucking away, and only going into their penthouse 5ftx3ft cages if they were nearing the end of their chicken life. I deduced there must be white eggs reserved specifically for children's egg-dying parties and an Easter debut in backyards all over America. Unclear on their origin, but very sure that colors must be used in order for the bunny himself to decipher these eggs from the brown fresh variety in the fridge.
As a 20-something in Portland, coffee is served with a side of environmental pretentiousness. Once my awareness grew of what could possibly go wrong in farming, I damned my budget and I determined that I'd be on the humane and organic side of this battle. Pre-2010, sourcing organic was a challenge and sourcing local forced me to put on my own farmer hat. Much to my landlord's dismay, I plowed the backyard of our 1930s rental home and planted lettuce, corn, tomatoes, and squash. My roommates and I enjoyed the majority of my harvest, but we moved out before the squash produced. Much to my confusion, my portion of the deposit was withheld by my landlord due to how "inconvenienced" she was in removing my garden. However, it did leave me with a feeling of ownership and pride about how I fueled my body.
I've attended a number of Orange Home Grown Farmer's Markets (learn more here) this past year and dabbled in fresh produce delivery from Farm Fresh to You (check them out!). Their passion for sourcing local ingredients is contagious and a seemingly obvious no-brainer practice. With an understanding of seasonal ingredients in my DNA, I wanted to base weekend dinner menu on spring asparagus. Saturday farmer's markets close at 2pm. Since my gumption arrived at 5pm, I chose Sprouts as it parallels Whole Foods without feeling as if I was supporting an organic monopoly.
And yes, that's the PNW anti-establishment in me. 
The first item on the menu…asparagus.
Organic?
On sale?!
Bingo!
Mexico, Mexico, Mexico. What?!
Yes, all but three bunches of asparagus were sourced in Mexico. I love taking vacations in Mexico, and much of their produce is certified USDA organic. The main difference is that California pays agriculture workers at least minimum wage (soon $15 an hour) and overtime after 4o hours of work in a week (read more here). Wages and organic certifications aside, my focus was purchasing in-season produce and buying produce grown in a different country defeated the purpose. I grabbed one bunch of California asparagus and stayed in the organic section for the remainder of my produce undertaking.
I planned to pick up squash and brussels sprouts to roast with a chicken for meal prep Sunday, but that plan dissolved after only finding one sad bag of Brussels sprouts in the pre-packaged produce area. The big black stamp on the outside read "MEXICO" but it may as well have said "OUT OF SEASON…DUH". I walked over to squash with my tail between my legs and a speck of certainty that squash was a winter vegetable. I remembered never enjoying my homegrown Portland squash and wasn't the least bit surprised when I turned over the butternut squash to see a "Mexico" sticker. Acorn squash…"Mexico".
I moved on from meal prep. At this point, I just needed to get Saturday's dinner on the table before midnight. Fortunately, both the pre-packaged arugula and spinach mix and bunch of rainbow radishes revealed California stamps.
45 minutes later, I returned home feeling almost as if I had harvested the vegetables myself. Next time, I'm carving out a couple of hours to go to the Orange Home Grown Farmer's Market or let Farm Fresh to You do the work and splurge for a large box of California grown, in-season vegetables delivered to my door for $33.
For $15 off your first order, use the banner link below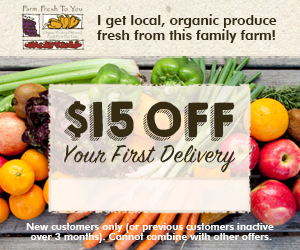 USE CODE: STEP2999
What to wear while putting together this spring salad? I recommend an off-the-shoulder top (try this one) and comfy high-waisted denim shorts (shop here). This way, if the quick pickle radishes don't come together quite right, you'll still look adorable when you serve dinner.
Asparagus Spinach & Arugula Salad — with grilled chicken, salami, farro and pickled radishes
Serves 4 or 2 (if very hungry)
Pickle radishes first. I have fallen in love with pickling and learned that the closer to 2 hours your quick-pickle items have, the tastier they are. Don't stress, if you only have an hour until guests arrive, after one glass of wine and great conversation, people won't even remember that dinner is late.
For Pickled Radishes
One bunch of radishes. It's important that they are thinly sliced so the flavors soak inside quickly.
3/4c champagne vinegar (the best deal I've found)
1 tbsp. plus 1/4 tsp. kosher salt
1 tsp. sugar
3/4 tsp cumin seeds
Pickling anything involves a bit of science. I love science, but I dislike measuring. For flavor's sake, it's worth being precise. 
For Salad
Two chicken breasts
One bunch of asparagus
Two-three handfuls of spinach and arugula
2 oz salami – I prefer Elevation Meats' black truffle sea salt salami (order here)
EVOO – I prefer California Coast Natural from Santa Barbara, CA (order here)
For Farro
1/2 pot of water
1/2-1 c of farro (depends on hunger level)
Shallots, green onion, onion, spring onion a.k.a. something to flavor the farro
Step One
Slice radishes and put in any style, at least 10 oz., jar. In a saucepan, heat vinegar to simmering. Remove from heat, stir in 1 tbsp. kosher salt, the sugar, and cumin seeds until salt dissolves. Add 1/2 c ice water to the saucepan and pour liquid over radishes making sure ingredients are submerged. Chill, covered, 1-2 hours then drain. Transfer to a serving bowl and chill until the meal is ready. (adapted from a Sunset Magazine recipe for pickling avocado — there, now you have two reasons to use the champagne vinegar!)
Step Two
I used to cook farro exactly as the package instructed. It turned out squishy and presented poorly. To save you and your dining companions trouble, I'm sharing this hack from Bon Appetite (check it out). Basically, just cook farro similar to pasta. Bring a large pot of heavily salted pot of water to a rolling boil. I also add Herbes de Provence and either leeks or spring onions to take the flavor to the next-level. Add the desired amount of farro (I used 1/2 c.) and cook for about 30 minutes until al dente. Drain, discard aromatics and lay out flat to dry. Voila!
If grilling, turn on the grill now.
Step Three 
Take out chicken breasts, put on a plate, and pat dry with paper towels. Slice in half and season with fresh rosemary, thyme, pepper, and salt.
Step Four
Slice asparagus diagonally. It cooks faster and just looks prettier. Put in a prep bowl and cover in 1-2 tbs of EVOO. Season with rosemary, thyme, pepper, and salt. If you like spice, add red chili pepper flakes.
Step Five
Heat up a grill pan, or take chicken breasts and asparagus out to the grill. I admit outdoor grilling is a whole lot easier as the surface area is much wider than my home grill pan.
Cook chicken until browned on one side and flip. After the first flip, add the asparagus and grill until both are done.
Step Six
Thinly slice salami into rounds. Stack a few on top of each other and slice those rounds in half.
Step Seven
Assemble salad! Put a few handfuls of arugula and spinach in a salad bowl. Break it into smaller pieces with your hands so it's easier to eat.
No one likes trying to put an awkwardly large salad leaf in their mouth. 
Top with asparagus, salami, chicken, and radishes. If you used a spring onion to flavor your farro, thinly slice up the tops and sprinkle on the salad. I like a simple white balsamic and EVOO dressing or Annie's Goddess Dressing (buy here).
Enjoy your locally sourced, seasonal salad!